THIS IS A SPECIAL OFFER FOR MY CUSTOMERS ONLY!
Thank you for your purchase! An email was just sent to you with your purchase information. Before you continue though I want to give you an opportunity to get 5 more passive income workshops from PassiveIncomeSquad.com, have ME (Liz Tomey) as your personal passive income coach, AND get the Reseller PLR to all 5 of these workshops too! Keep reading for details...
Your Passive Income Journey Starts Right Now!
Everything I know about creating passive income streams is about to be in your hands, so that you can put it to use and create your own passive income streams just like I have done... Are you ready for the journey with me?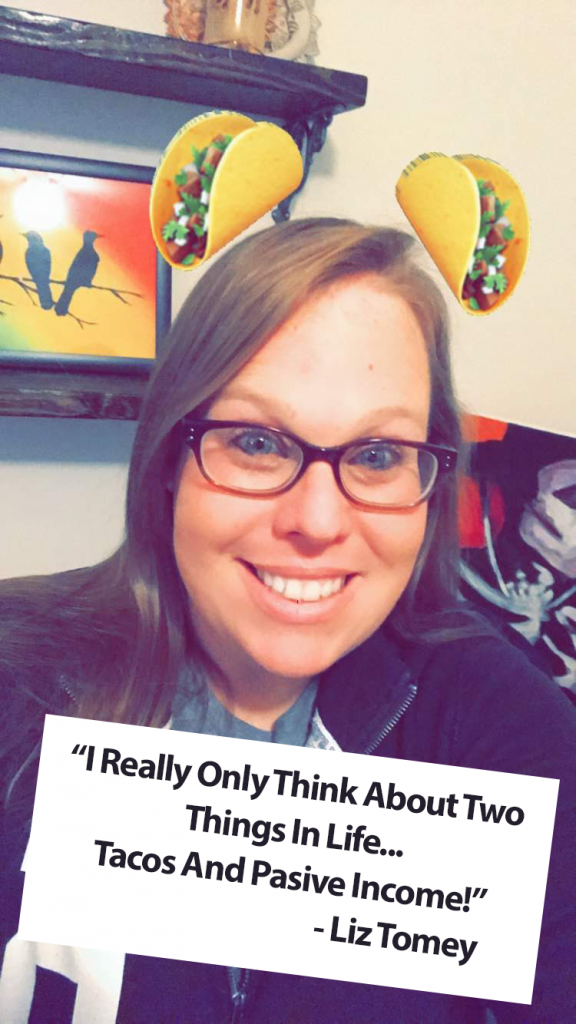 Hi there! I'm Liz Tomey and a few years ago I started on a journey to create multiple streams of PASSIVE income.
Income I don't have to do much of anything to generate...
How?
Because I setup some systems, and these systems now make me money.
I spend a few hours a day driving traffic to them and they make me money.
That's really it! Use a proven passive income system, drive traffic to it, make the money.
Currently I'm on a journey to create at least $12k a month in passive income. That's my first goal, and as of this writing I'm about halfway there. Yay! 🙂 
After months and months of trial and error I have finally cracked the code to passive income, and MULTIPLE ways of creating that passive income.
You simply create a passive income machine, pick your passive income streams (the things that passively make you money), and then promote your passive income machine using spare time you have each day.
I just gave you the entire secret sauce there!
You have the secret sauce, but you have to know how to "make" the sauce.
So... I've now taken each passive income strategy I use and I'm teaching it via step-by-step workshops.
These workshops are like my entire brain on passive income creation, and this is your chance to "get my brain" and create your own passive income.
If you want to start YOUR passive income journey with ME, set a passive income goal, and ACHIEVE it then take a look at what's in this bundle...
The PassiveIncomeSquad.com Workshop Bundle PLUS Reseller PLR Licensing!
In this one time never before seen deal, I'm giving you the opportunity to get FIVE different workshops teaching FIVE different passive income streams, AND giving you the full reseller PLR license to them ALL...
This offer will NOT be repeated at this price, so pay very close attention...
Here's what you're getting today...
$12K A Month Passive Income Blueprint Workshop
This is where it ALL starts! When you first start your journey with passive income you have a lot of decisions to make and a lot of setup work to do before you can move forward. That's what this workshop is all about. Knowing WHAT to do and getting setup to DO it!
This is your first step and in this workshop we will plot and plan and get you ready to get on your journey to making at least $12K a month in nothing but passive online income!
The Affiliate Marketer's Passive Income Workshop
In this workshop I'll show you how to create your very own passive income business as an affiliate marketer.
No crazy lead magnets to create or other hard work. Just follow my system, do what I do, and you'll have your very own profit pumping PASSIVE affiliate marketing business!
Social Media Passive Profits Workshop
In this workshop I'll show you how to create multiple streams of passive income in the social media marketing niche.
There are huge needs that business owners have and you can meet those needs and profit from them with very simple offers. I'll show you how to create these offers and set them up as passive income streams! This is a complete business model!
Passive Membership Profits Workshop
Membership sites make great passive income streams. If you know how to do them correctly. I have a complete strategy I use to create autopilot membership sites that make me money month after month and I'll show you every step of creating your very own in this workshop!
This is the BIGGEST passive income earner you can implement, and I make it all super simple!
Resellers Passive Profits Workshop
When you think of digital products you might think they're hard to create and you can't make passive income with them. That couldn't be further from the truth.
In this workshop I'll show you how to create complete digital products from easy to find PLR content and turn them into passive income streams over and over and over again! This is a complete business model!
This Offer Will Never Be Repeated At This Price!
All five of these workshops are currently being sold with Reseller PLR for $197 EACH, but if you act right now you can get all FIVE with reseller private label rights for only $97!
That's $888 cheaper than you would pay if you bought them all separately. You're saving OVER $800 with this deal!
As I said though... This offer is only available right here and after the launch it will be pulled and never repeated again, so make sure you grab this right now!
Just click the order button below and after purchase you can go through all five workshops and download all PLR files for all five workshops and the reseller PLR to all of them.
I can't wait to be come YOUR passive income coach!
Frequently Asked Questions
Q

Is All Of The Content Original Content?

Yes! Every single piece of content has been created from scratch by me (Liz Tomey) personally. I don't hire anyone to create the content for my PLR packages so I know every single thing that's in this package is 100% original and created with the highest level of quality!

Q

Is There A Money Back Guarantee?

No! I know this content is of the highest quality. I do not offer refunds on any of my PLR content. My guarantee is that I will help you with anything you need until you're making the passive income goal you set for yourself!

Q

What Are The Rights For This Content?

I just have two rules for this content. You cannot use my name and your customers cannot sell the content with any kind of rights. That's it...

Q

How Can I Contact You With More Questions?

Feel free to ask me any questions you have about what I'm covering in this workshop by contacting me at LizLive.com